Sweet Baby is now the length of a Carrot!
Tuesday March 6th, Chris finally got to feel our sweet baby kick!  Nothing was sweeter than seeing and hearing his reaction to our little baby girl moving around!  She's very active when I'm sleeping, it seems as if that is when she is awake.   Feeling her move is absolutely amazing.  I love her more than anything and cannot thank God enough for blessing us with our precious little baby!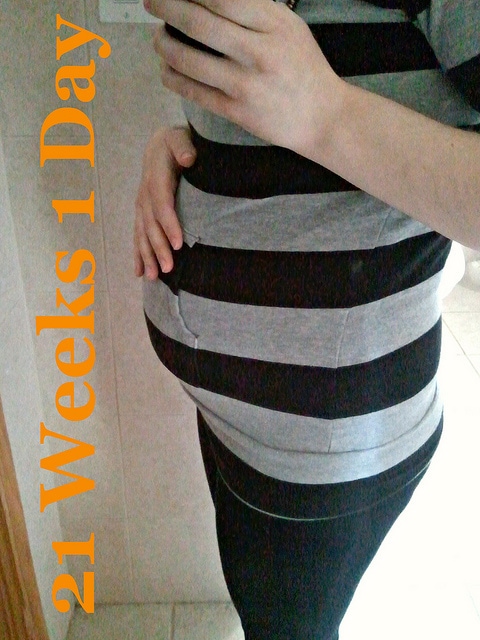 About our baby: Our sweet baby's Your baby now weighs about three-quarters of a pound and is approximately 10 1/2 inches long, the length of a carrot. You may soon feel like she's practicing martial arts as her initial fluttering movements turn into full-fledged kicks and nudges. You may also discover a pattern to her activity as you get to know her better. In other developments, your baby's eyebrows and lids are present now, and if you're having a girl, her vagina has begun to form as well. (summary from babycenter)
About me: Feeling more energized!  Wonder how long it will last?
How far along? 21 Weeks 1 Day  
Total weight gain:  8lbs
Maternity clothes? Not yet
Stretch marks? None yet
Sleep: That's the time baby is up.. so at night not much, nap time during the day!
Best moment this week: Hubby feeling her kick on March 6th!
Worst moment this week: Grandma.. RIP I love you more than anything.  March 5, 2012.
Miss Anything? Medium Rare Steak
Movement: Yes!
Food cravings:  Grapefruit and red pepper
Anything making you queasy or sick: Raw ground meat/chicken.
Gender: Baby GIRL!
Labor Signs: No.
Symptoms: Nothing really.
Belly Button in or out? Same, in.
Wedding rings on or off? Off.
Happy or Moody most of the time:  Happy!
Looking forward to: Next time we get to see baby on an Ultrasound.  
The post Sweet Baby 21 Weeks appeared first on Courtney's Sweets.