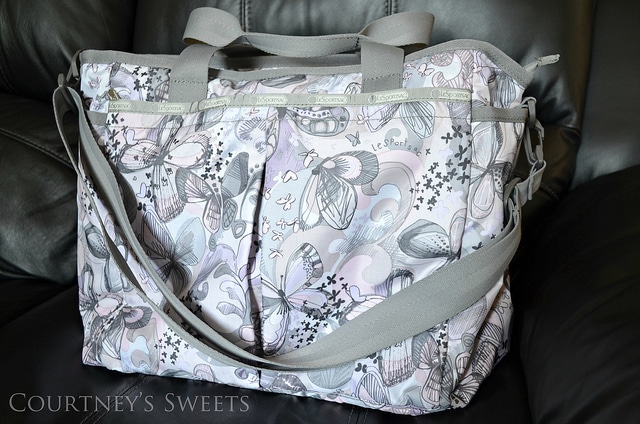 I have been on a mission to find the perfect diaper bag for Mikaylee.  After reading many reviews I was still not sure on which one we were going to get.  Then I saw the Ryan Baby Bag, by LeSportsac.  I'm sure everyone knows about LeSportsac for their purse, luggage, and even their favorite tote.  I was so thrilled when I saw they actually make diaper bags too!  I love that I can hold it on my shoulder or even across my shoulder thanks to the large shoulder strap which is adjustable.  It also has handles for easy carrying.


The Ryan Baby Bag has the same quality you love and know, but it's for baby!!  I am so thrilled to be reviewing the Ryan Baby Bag in the Fly Away print. This pattern is so fun and girly!  It's perfect for our Sweet Baby to arrive in style!  It has plenty of room for everything that I'll need.  Since Mikaylee isn't here yet I'm using it as her hospital bag.  I can't for the life of me pick out a coming home outfit..  So I have 3 outfits, 3 hats, 3 pairs of socks, 3 hand mittens, 2 burp cloths, 2 receiving blankets, a package of wipes, nursing pads for me, and a nice warm blanket.  All of this fits in the bag with room to spare!  I still haven't picked out diapers, as we're going to wait and see if she needs newborn or size one before getting.


I love all the pockets on this bag.  It has two huge side pockets for bottles, so big I could even put a water bottle in there!  It also has two large interior pockets, a front zipper pocket, and an open back pocket.  Another feature it has which is going to be extremely useful are stroller clips!  I won't have to hold my bag or put it too low where I have to bend constantly.  Did I mention it also comes with a matching changing pad?  – LOVE!


I love this bag so much that I'm even thinking about buying one for the winter in a darker color.  A baby girl has to accessorize with the season you know!  
I love all of their patterns and I am pretty sure you will too! They have a full list of prints!
BUY: The price range for the LeSportsac Ryan Baby Bag is between $128-138.  Definitely a bargain for the quality and size!
Be sure to check LeSpotsac out on Facebook and Twitter! 


Disclosure: I was sent the above item for review, but was not compensated otherwise.  All opinions expressed are my own.   
The post LeSportsac Ryan Baby Bag Review appeared first on Courtney's Sweets.