Sweet Baby's first Easter was a nightmare.  She was sick and we didn't know at the time that is was FPIES, a rare food allergy.   Since her diagnosis last June we've added a TON of safe foods to her diet but chicken, soy, and oats are still her trigger foods.  Her favorite meal of the day is usually breakfast.  We like to sleep in and enjoy scrambled eggs, shredded potatoes, fruit, and yogurt too!  
Now trying to plan for Easter Brunch Menu at my in law's would usually be a daunting task to NOT exclude her.  I always like to have options for her and others.  However who has time to make an FPIES safe meal for an entire extended family too?   Luckily we headed to Wal-Mart and found out Sweet Baby could have Ore-Ida Shredded Hash Brown Potatoes in the freezer section.  She shrieked AS soon as she saw Olaf on the package and ran away with it into the women's section as fast as she could!   We hope Ore-Ida makes a new line with Organic Potatoes, how great would that be?!  Especially since Sweet Baby can eat their products
I plan to make a ton of Veggie Vegetarian Potato Pancakes for Easter Brunch so that way everyone can enjoy along with Sweet Baby.  We always enjoy food as a family!  Hashbrowns have been a favorite of mine as soon as I could eat, so my favorite hash brown recipe is my mother's potato latkes, it's kind of like the best hashbrown recipe! I like to add a bunch of veggies to them now that I'm a big kid and all
Holiday Entertaining should be fun for everyone including the hostess!  No way to enjoy if you're slaving away in the kitchen all day!  My Veggie Vegetarian Potato Pancakes for Easter Brunch are simple to make ahead of time and just pop them in the oven to crisp up the next day!   Plus by using  Ore-Ida Shredded Hash Brown Potatoes you cut out the washing, peeling, and shredded of the potatoes! SCORE!  Growing up when my parents were in a jam they'd head to Mc…. you know and get us hashbrowns and egg and ham on an english muffin.. I can make this entire batch before even getting dressed, ready, waiting, ordering, pulling up to the drive through, and paying out the Easter Basket for processed food.  
These pancakes are full of healthy organic vegetables (not the shredded potatoes, but everything else!).  I feel good that not only is my daughter getting her potatoes she loves but also spinach, carrots, mushrooms, and protein packed eggs too!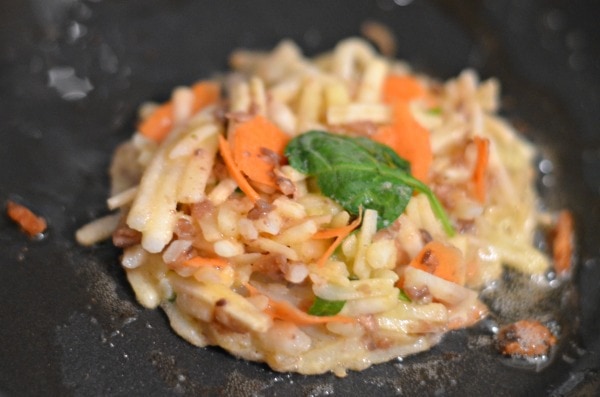 Thanks to #CollectiveBias and #OreIdaHashbrown for helping us create this FPIES friendly recipe for Sweet Baby
Veggie Vegetarian Potato Pancakes for Easter Brunch
4 cups Ore-Ida Shredded Hash Brown Potatoes
1 Large Carrot (shredded)
1 Large Portobello Mushroom (minced in a food processor)
5 Extra Large Eggs
1 Handful of Fresh Spinach
Salt to Taste
In a large bowl combine ingredients, give the spinach a little rough chop before mixing in if you'd like.
On a large flat griddle heat some olive oil or coconut oil and place the mixture on the griddle.
Cook until the one side is crispy, then flip it over and cook the other side.
Repeat until the mixture is finished.
Once they're done place on a platter lined with paper towel and sprinkle with salt to taste
The post Veggie Vegetarian Potato Pancakes for Easter Brunch appeared first on Courtney's Sweets.