Need a  quick and easy recipe that you could cook up in minutes for the entire family?  Full of flavor and with little effort you can have this meal done within 30 minutes, no lie! 
Kay has been obsessed with quinoa and rice and I love making sure we get meals that are full of protein and never forget the veggies!  We love the Pacific brand soups and this was a recent find that we absolutely love.  I typically make it on it's own however it is delicious with our quinoa rice, peppers, onions, and grilled steak!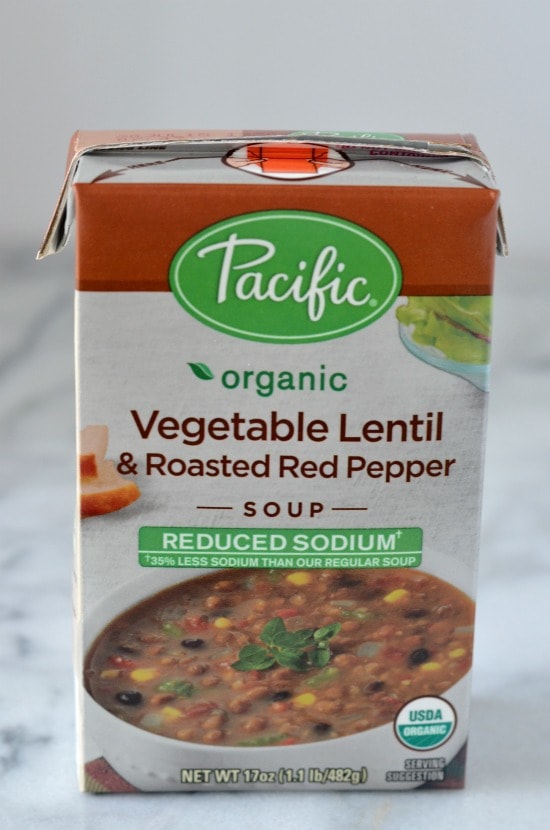 I cook the steak until it's well done for Kay – always have to be careful with kiddos and meat that isn't fully cooked.  We do however only get grass-fed beef from our local Whole Foods.
Quality is number one in this house.  All of these ingredients are organic and delicious.  Our Steak with Peppers Quinoa and Rice is the perfect meal that takes little effort!  We hope you enjoy it too!
Steak with Peppers Quinoa and Rice
1 Package Vegetable Lentil & Roasted Red Pepper Soup
1 Cup Cooked Quinoa
1/2 Cup Cooked White Rice
1 Bag of Frozen Peppers and Onions (about 2 cups)
1/2 Teaspoon Cumin
1/2 Teaspoon Chili Powder
1 Tablespoon Salt
1 Teaspoon Pepper
1/2 Teaspoon Smoked Paprika
1/2 Teaspoon Oregano
1 Teaspoon Onion Powder
1 Teaspoon Garlic Powder
1 lb Beef of Choice
In a sauce pan on medium low heat combine the rice, quinoa, peppers + onions, seasonings, plus the soup. Stirring occasionally (Don't have all the seasonings? Use about a half a packet of Taco seasoning!)
Meanwhile cook your beef until desired temperature. (Don't want beef? Use Beans, Lentils, or even Tofu.)
Once the soup and quinoa rice are heated throughout serve with beef and enjoy.
The post Steak with Peppers Quinoa and Rice appeared first on Courtney's Sweets.