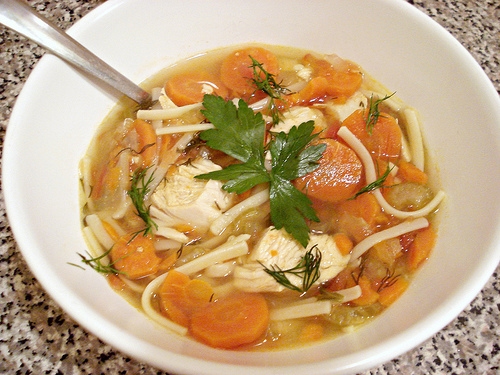 I still can't get over the snow we got here in Jersey.  It's dark, cold, and snowy.  I think that's a perfect time for soup..
I have nothing in the house.. I usually do my major food shopping on Saturdays.  Thankfully I had some frozen chicken, cut vegetables that were for snacking, and chicken stock.  Makes for good chicken soup, right?  Chris came home from work last night and told me he had to go through a maze to get to our block because there's fallen trees everywhere.  After all the snapping I heard earlier I wouldn't doubt it.  Thankfully he got home safe, and also enjoyed some warm soup when he sat down.
I hope you're all keeping warm and safe during our Snowtober!
Chicken Noodle Soup
Makes 3 servings
3 Cups Low-Sodium Chicken Broth
3 Cups Water
3 Chicken Breasts
1/8 Cup Chopped Fresh Parsley
1/8 Cup Chopped Fresh Dill
1 Large Tomato without the seeds
4 Stalks of Celery
4 Peeled Carrots
1/4 Box of Linguine Pasta, break into 3 sections
Salt + Pepper to taste
In a large sauce pan combine Chicken Broth, Water, Chicken Breast and Fresh Herbs.
Chop tomatoes
Slice Carrots and Celery
Add chopped and slice vegetables to the chicken broth mixture
Place fire on med-low heat.  Cook an hour and remove chicken, chop!  Return the chicken to soup along with the Linguine and cook another 1/2 – 1 hour.
Salt + Pepper to taste, enjoy!
The post Quick and Easy Chicken Noodle Soup appeared first on Courtney's Sweets.