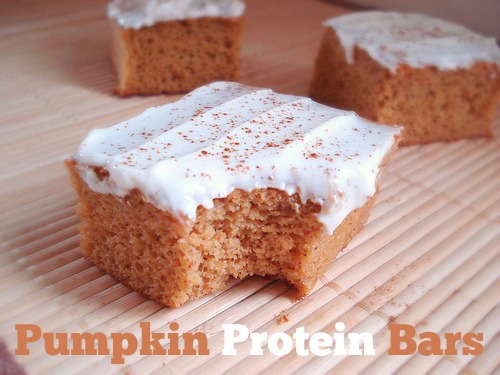 Recently I purchased a new protein powder which was unflavored.  To me, it wasn't unflavored – it had more of a protein taste.  I get that it's protein, but I wanted unflavored so instead of throwing away money I figured I'd bake with it.  This way if I waste it baking it's not a total waste.  I'm so happy I did it!  I ended up making pumpkin bread and used honey in place of sugar.  I'm not so sure if it's any better than sugar, but I'm not a fan of artificial sweeteners.
I'm pretty impressed and sort of blown away that they turned out delicious on the first try!  I can't taste the protein powder thanks to all the delicious flavors of fall packed in.  I'm so ready for fall baking, apple picking, and fun activities with the family.  I couldn't wait to share these because they are fall in every bite – and healthy!!  Definitely worth a try, and I won't mind snacking on one after my workout – success!


Pumpkin Bread Protein Bars
2 Eggs
1/2 Cup Honey
1 Cup Pumpkin
2 Teaspoons Vanilla Extract
1 1/2 Cup Protein Powder, unflavored
1/4 Cup All-Purpose Flour
1/2 Teaspoon Baking Soda
1/4 Teaspoon Baking Powder
1 Teaspoon Pumpkin Spice
1/4 Teaspoon Ground Cloves
1/2 Teaspoon Cinnamon
1/4 Teaspoon Salt
Combine the wet ingredients, and then combine the dry.


Mix them together and pour into a greased 8×8 pan.

Bake at 350 for 25-30 minutes or until just crisp around the edges.  Let cool, and then slice into bars.

Now if you're ready to get serious..
Chobani Maple Cream Cheese Frosting
(Make enough to eat within the hour)
1 Part Nonfat Vanilla Chobani
2 Parts Low-Fat Cream Cheese
2-3 Tablespoons Real Maple Syrup
Cinnamon for dusting
Mix together the Chobani, Cream Cheese, and Syrup.  Spread evenly onto bars and sprinkle with Cinnamon – Enjoy!
Note: If you prefer a sweeter frosting add a little powdered sugar to the frosting mixture.
The post Pumpkin Protein Bars appeared first on Courtney's Sweets.