Our no bake strawberry cheesecake can be made in less than 30 minutes! Make this no bake cheesecake recipe for dessert and wow all your guests.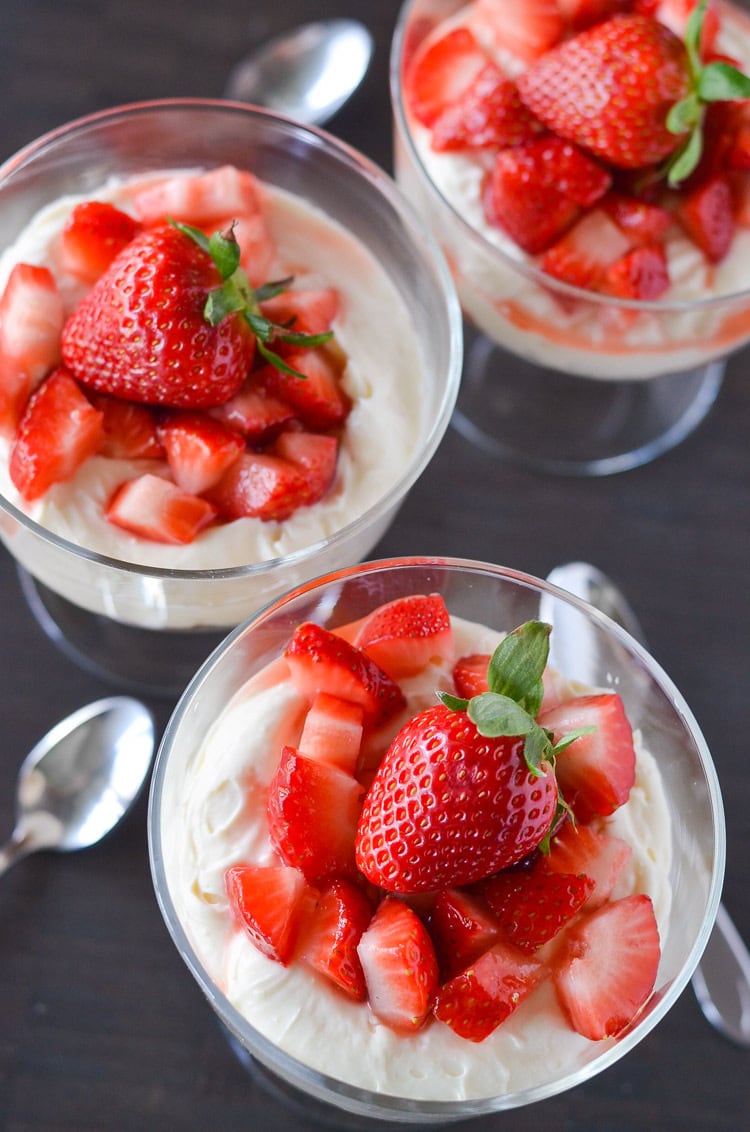 No Bake Strawberry Cheesecake is one of my favorite desserts, it's an easy no bake cheesecake recipe and you could easily put any fruit on that you like, even a lemon curd to make a no bake lemon curd cheesecake, YUM!
Since this strawberry cheesecake doesn't require baking you can make this on a hot summer day without heating up the house and still have a gorgeous dessert for your friends and family. My family loves the fresh berries with this no bake cheesecake, but you can definitely cook them down if you like.
I will say, our no bake strawberry cheesecake recipe is SO good, so good that you'll want to eat the entire batch yourself. When you make it you can do an entire cheesecake or individual cheesecakes like I did!  This recipe is so flexible that you could even put it into mini dessert shooters and use mini spoons. Our no bake cheesecake is budget friendly since it uses only a few ingredients.
There's no doubt Kraft Foods Philadelphia cream cheese makes an incredibly rich and creamy cheesecake.  When I don't have time to bake a cheesecake and I just whip this up.  That's why we really love this No Bake Strawberry Cheesecake Recipe. I can whip it up (literally!) in less than a half hour! There's no need to chill after it's all made for hours and you can eat it right away.  Who doesn't want dessert right away?!
Kay can eat her weight in strawberries in 3 days, no joke!  That girl loves her berries! My favorite pairing is cheesecake and strawberries, so it was really nice to recreate a recipe that is a no bake recipe over my traditional baked cheesecake version. If you want to make a baked cheesecake definitely check out our Chocolate Covered Strawberry Vanilla Bean Cheesecake!

No Bake Cheesecake Recipes
No Bake Strawberry Cheesecake
Our no bake strawberry cheesecake can be made in less than 30 minutes! Make this no bake cheesecake recipe for dessert and wow all your guests.
2 – 8 oz packages of Philadelphia Cream Cheese (, softened)
1/4 Cup Pure Cane Sugar
1 Teaspoon Tahitian Vanilla
Juice of 1 Lime
1 Cup Whipping Cream
6 Graham Crackers
2 Tablespoons Unsalted Butter (, melted)
10 Strawberries
1 Teaspoon Pure Cane Sugar
In a stand mixer combine the cream cheese, (1/4) sugar, vanilla and lime juice.
Once combined slowly mix in the whipping cream until fully mixed, then increase speed and whip for 2-3 minutes.
Place the cheesecake filling in the freezer while your prep other ingredients.
In a blender or food processor crumb the graham crackers, then in a small pan melt the butter.
Combine the crumbs and melted butter in the pan while fire is still on, this way you can cook the crumbs a little and get a crunchy texture.
Place crumb mixture into serving dishes, be sure to pat down.
Chop up strawberries and mix with (1 teaspoon) pure can sugar (leave some whole for garnish if you'd like).
Remove the cheesecake from the freezer and spread over the graham cracker crust, then top with strawberries and enjoy!
The post No Bake Strawberry Cheesecake appeared first on Courtney's Sweets.