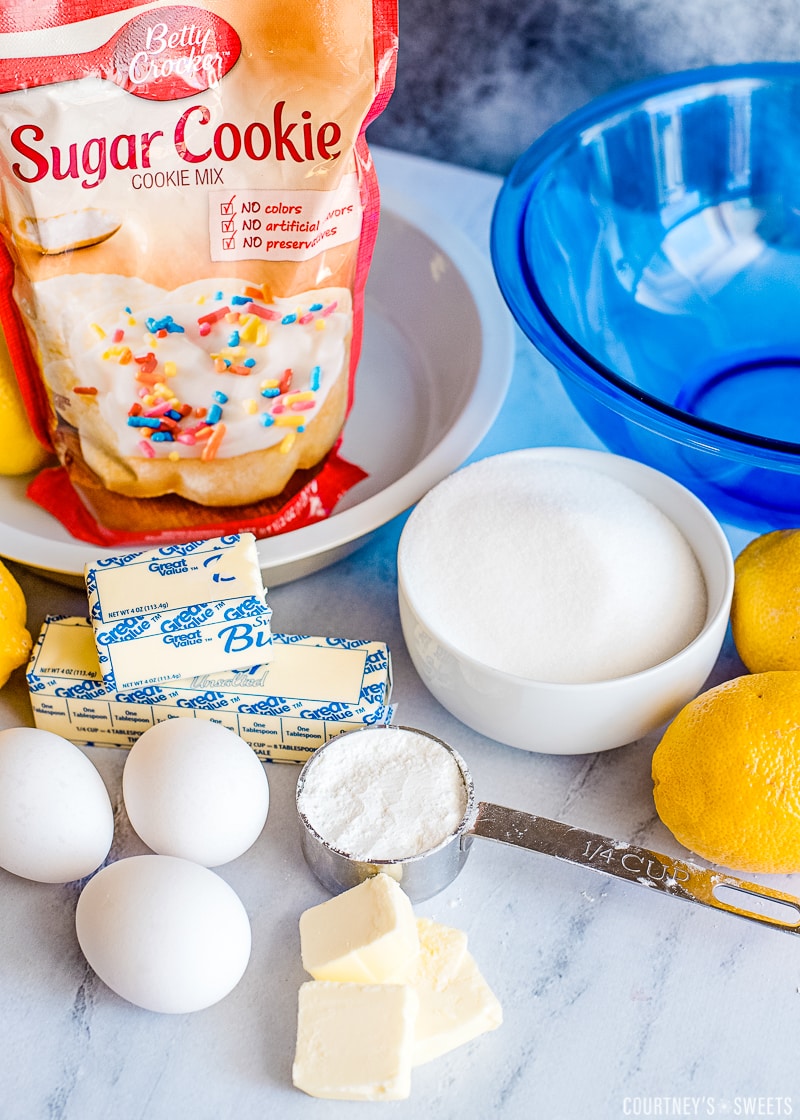 ingredients for this lemon pie
sugar cookie crust ingredients:
sugar cookie mix
unsalted butter
lemon filling ingredients:
granulated sugar
cornstarch
water
zest from a large lemon
lemon juice
egg yolks
unsalted butter
whipped topping ingredients:
softened cream cheese
heavy whipping cream
powdered sugar
vanilla extract

How to make Lemon Pie with Sugar Cookie Crust
This lemon pie is super simple, we use a sugar cookie mix for the crust and then make a homemade lemon filling and homemade whipped topping. Once all of the ingredients are combined and ready you can chill in the fridge until ready to eat.
Yes, please keep the pie leftovers in the refrigerator. It should be enjoyed cold so you can make this pie ahead of time as well.
This article was written by Courtney's Sweets, the recipe is from our guest chef Amanda.
Lemon Pie with Sugar Cookie Crust
This Lemon Pie with Sugar Cookie Crust is the ultimate summer pie recipe. You can make this pie ahead of time so you're ready to go when it's time for dessert!
Sugar Cookie Crust:
1 packet Betty Crocker 17.5oz Sugar Cookie Mix
1 stick unsalted butter (softened)
Lemon Filling:
1 1/4 cup granulated sugar
1/4 cup cornstarch
1 1/4 cup water
zest of lemon
1/3 cup lemon juice
3 egg yolks
3 tbsp unsalted butter
Whipped Topping:
2 oz cream cheese (softened )
1 1/2 cups heavy whipping cream
1/3 cup powdered sugar
1/2 tsp vanilla extract
To make the crust:
Preheat oven to 350 degrees F. and 

Prepare a 9inch pie pan with non-stick spray.

In a large bowl, add in the sugar cookie mix and the softened butter. Cut the butter into the mix until it's nice and crumbly. 

Take about 2 cups of the mix and pour it into the prepared pie pan. If there is extra you can make another pie or even mini pies.

Pack the crust mixture into the pie pan and work it's way up the sides. 

Bake the sugar cookie crust for 10 minutes and set aside to cool.
To make the lemon pie filling:
In a saucepan, combine the sugar, cornstarch, water, lemon zest, and lemon juice. 

Cook on medium-high heat until the mixture begins to boil and cook for about a minute longer. You'll know it's ready when the mixture begins to get bubbles and thickens up, then remove from heat.

In a small bowl, pour some of the saucepan mixture in with the egg yolks and whisk together. 

Then pour the mixture back into the saucepan and continue cooking. 

Once the mixture begins to boil, cook for an additional 2 minutes.

Pour the mixture into the cooled pie crust and allow it to rest for 15-20 minutes. 

Cover the pie loosely refrigerate for at least 3 hours to allow it to set.
To make the whipped topping:
When the pie is ready, take your mixing bowl and stick it in the freezer for 15 minutes. 

Once chilled, beat the cream cheese until creamy and then add in the rest of the whipped topping ingredients and mix until peaks form.

Spread the whipped topping over the chilled pie and garnish with fresh lemon zest.
The post Lemon Pie with Sugar Cookie Crust appeared first on Courtney's Sweets.