I know a lot of you seem to like my meatloaf cupcakes, and I figured I'd make a Halloween Meatloaf Cupcake!  I first had the idea of a purple mashed potato, then sweet potato as pumpkin, and I just couldn't wait until Halloween to make them..  So I made them now, and I'm so happy I did!  Chris came home and was very happy to taste test.  He first thought I used food coloring – no no no, they're all natural!  I actually had to hunt down purple potatoes.
 I would have liked to use standard size potatoes or even medium yet all I could find was petite – in other words pain in the butt to peel.  Would I do it again??  Without a doubt, so yummy!
When I think of Halloween colors of course I think of orange and black, then again I also think of purple and green.  Halloween is one of my favorite Holidays.. It was my daddy's favorite too!  I'll never forget how much he loved to decorate.  I'm sure he would approve of these cupcakes..  I even wore one my fall aprons while making these. Love aprons
On to the recipe! I sure hope you like them, if you make them please let me know what you think.
Turkey Meatloaf Cupcakes
Makes 1 Dozen
1 Carrot
4 Scallions, whites only (you can use onion instead about 1/8 cup)
1 Small Green Pepper
1 Small Red Pepper
1 Tablespoon Olive Oil
1/4 Teaspoon Garlic Salt
1/8 Teaspoon Pepper
1lb Ground Turkey (93/7)
1/3 Cup 2% Milk
1 Egg
1/8 Cup Ketchup
1/4 Cup Bread Crumbs
1/8 Cup Ketchup
1 Teaspoon Worcestershire Sauce
Pre-heat oven to 350
Chop up the carrots, scallions, and peppers.
 In a large pan heat olive oil and add vegetables, garlic salt, and pepper.  Cook until al dente.
 Combine turkey, milk, 1/8 cup ketchup, bread crumbs, egg, and vegetables.  Put into muffin cups.
Mix together the remaining ketchup and worcestershire sauce – use to baste the cupcakes.
Bake for 35-40 minutes or until internal temperature is 165.
Now for the monster mash!! Errr – Mashed Potatoes
Sweet Potato Mash
2 Large Sweet Potatoes
1/2 Cup Milk
1/2 Teaspoon Salt
Slice the potatoes and put in a pot with water covering the potatoes, bring to a boil.
Once fork tender strain and mash the potatoes with the milk + salt.
Broccoli Bliss Mash
2 Cups Broccoli Florets
3 Medium Sized Baby Bliss Potatoes
2 Ounces Cream Cheese
2 Tablespoons Butter
1/3 Cup Milk
1/2 Teaspoon Salt

Boil broccoli.  Peel, cut, and boil the potatoes.
Once the broccoli is done place into a blender with the cream cheese, butter, and milk.  Liquefy!
When the potatoes are fork tender mash them and add in the broccoli mixture.
Purple Mash
1lb Purple Potatoes
2 Ounces Cream Cheese
2 Tablespoons Butter
1/2 Teaspoon Salt
Peel, cut, and boil the potatoes.  Once the potatoes are fork tender drain and mash with remaining ingredients.
Now it's time to dress your meatloaf!  Have fun with it!  Peas, broccoli florets, peppercorns, or whatever you can think of!  This is a fun dinner that any picky kiddo would love!
Make food fun, and have a safe and Happy Halloween!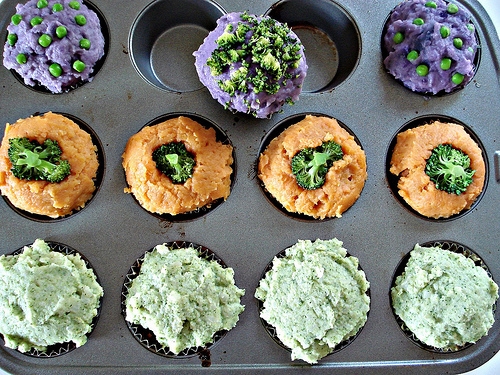 The post Halloween Meatloaf Cupcakes appeared first on Courtney's Sweets.