Did you know that today is National Grilled Cheese Sandwich Day?  Oh how I love a good grilled cheese sandwich.  The more cheese the better, right?  Well since I'm pregnant I have been eating lots of eggs for protein, but I have to have other things with them.  So I always make a Grilled Cheese Egg Sandwich if I'm not eating egg salad.
It's pretty simple, quick, and delicious.  It's also very filling!  I just take some eggs, cheese, bread, and butter.. Mmm, perfect combination just missing some bacon!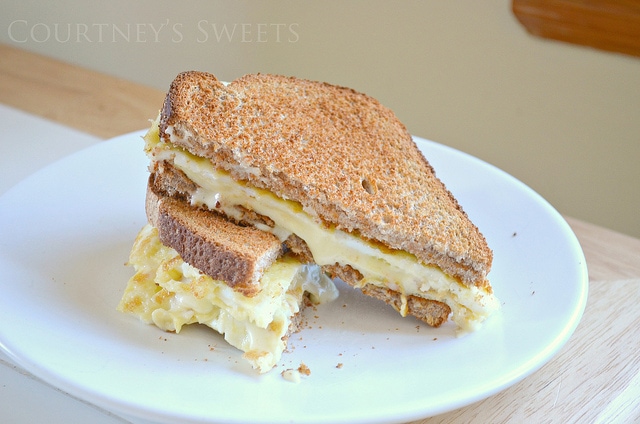 Grilled Cheese Egg Sandwich
1/2 Teaspoon Butter
1/2 Teaspoon Olive Oil
1 Whole Egg
3 Egg Whites
1 Tablespoon Milk
Salt + Pepper
1 Tablespoon Butter
2 Slices of American Cheese
2 Slices of Whole Wheat Bread
In a large frying pan heat the oil and butter.  Meanwhile mix together the egg, whites, milk, salt and pepper; add to the pan once the pan is slightly hot.  Let the egg cook like an omelet, and drag the sides in.  Once the egg is fully cooked on the bottom flip the egg and cook on the other side.  When the egg is done remove it from the pan and place in 1 tablespoon of butter.  Place the bread, cheese, cooked omelet, and another piece of cheese.  Once browned flip and brown the other size.  Cook until desired brown is achieved.  (You can also just toast the bread with the cheese and then add the omelet.  Enjoy!
The post Grilled Cheese with Egg appeared first on Courtney's Sweets.