Oh how I miss my grandma..   I will never forget talking to her on the phone for an hour just about a recipe or anything that involves food.  We could go on and on forever.  She taught me a very useful tip when I was younger – "Courtney, you can always add more but you can't take out."   I used to add too much salt to everything and then I wouldn't touch it.  Although we found one exception to this rule, and that is chocolate – you can never have enough!  It's been so hard not to be able to pick up the phone and talk to her about her day.  She was full of life, but her body was running on empty.


My last conversation with her was of her telling me about her upcoming surgery, and how that it would fix everything so I could come visit with the baby.  She talked about how she was so anxious to find out if I was having a girl or boy and what we would name them.  Unfortunately the surgery only made matters worse, and it tore me apart that I knew my grandma wasn't going to make it.  When she joined my parents, grandpa, and other relatives in heaven I thought to myself, how could this happen?? Why?  Then I realized not only was she with all of the people she loved.. She was out of pain.  She was set free.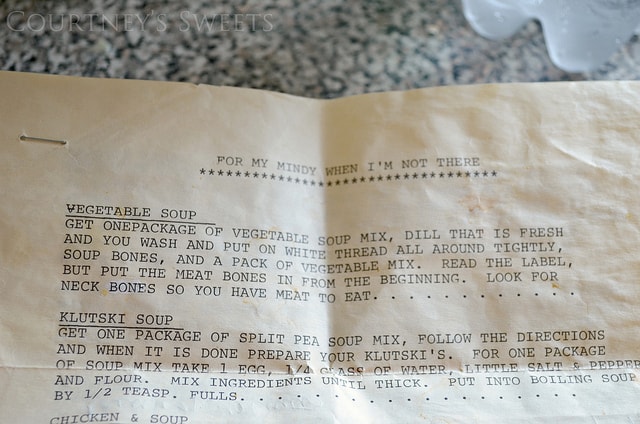 This is a copy she made for my mother.. 
So now as I open my recipe box and look at all the memories we have of my grandma I can't help but smile.  Smile and think of all the times we would talk about recipes.  At first it was hard for me to even think about making anything.  Now it is bringing me comfort.  I was brought up always eating my grandma's cooking that was full of love, and now I will enjoy it just as if she had made it herself.  Not only me, but my beautiful family.
So I share this recipe for my Grandma's Knaidlach (Matzo Balls) with you, and hope that you will also enjoy the way that I have for all these years.
Grandma's Matzo Balls
Makes 15-20 


4 Eggs
1/2 Cup Seltzer Water (I like to do 3/4)
2 Cup Matzo Meal
Salt + Pepper + Parsley to taste
1 Teaspoon Oil


Beat eggs, seasonings, and seltzer.  Then add into a large bowl with the matzo meal. 
Mix until combined.  Place into the refrigerator for about an hour.  
Roll into balls and place into a large sauce pan with boiling water with oil.  
Boil them for about 20 minutes.  
Once they are done add into your favorite chicken soup.  
The post Grandma's Matzo Balls appeared first on Courtney's Sweets.