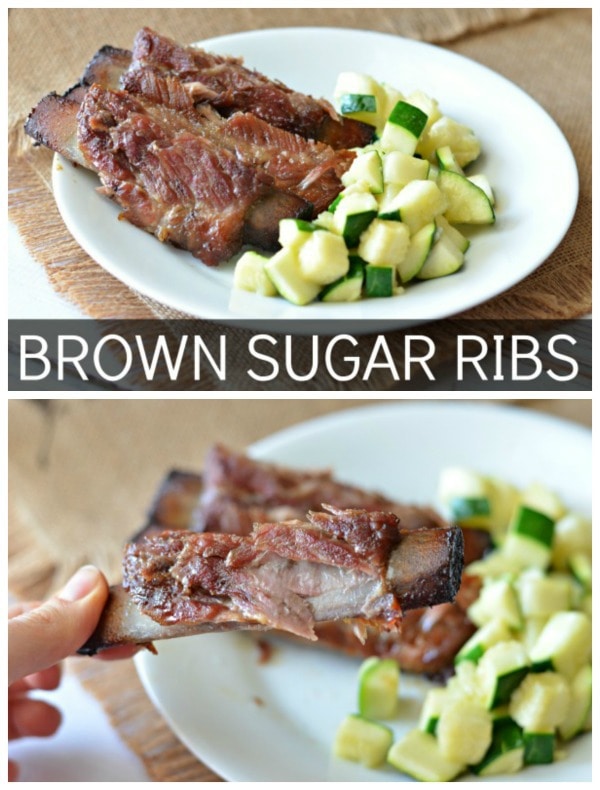 Since my daughter's FPIES diagnosis we've tried a slew of different foods and one of her favorite proteins are pork.  She could eat bacon, ribs, and chops all day if I let her!  Due to her limited diet we always kept things pretty simple and even after her ever expanding list of safe foods we've actually now just started focusing on the quantity she actually eats rather than introduce more foods.  She's has quite the list now compared to only eating banana and strawberries just last summer.
When I first trialed pork for her I made it extremely bland, just putting it under the broiled and letting it cook.  She has since enjoyed it many different ways but her favorite way of all (mine too!) is with a little brown sugar!  Ridiculously simple and incredibly flavorful.  Pork has it's own amazing flavor and the sugar just makes it even better.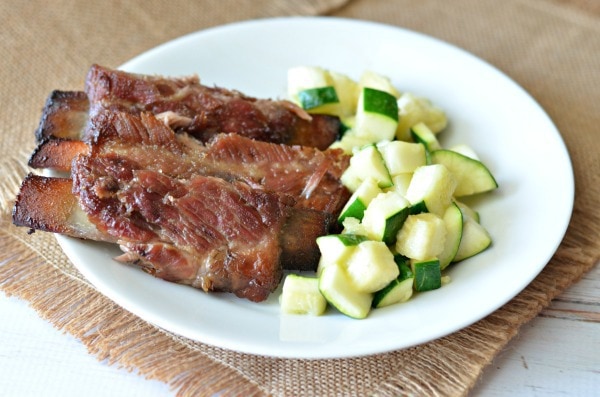 I serve it with some chopped zucchini that I cooked with a little olive oil and garlic.  My favorite part is now that Sweet Baby is bigger she actually calls ribs ribbies and holds on to it like a big girl!  She can't eat it if it's tough so she's super happy that they fall off the bone!  I like to cook my ribs for a minimum of 2 hours.  I purchased an organic rack of pork ribs at Wegman's and while they were really good I prefer getting the country style at Whole Foods.   Country style has a lot more meat and it's just crazy on the flavor charts to me.  My aunt actually inspired this recipe.  She used to buy a huge thing of pork butt and roast it all day just using some water and brown sugar!  At the end you could add some salt while it's still warming in the oven.  She would create a thick glaze of brown sugar goodness since all the pork fat would mix into the sugar and water.  It was all sorts of goodness going on. Pork, fat, gooey stick sugar.  We loved to enjoy it over some Jasmine rice!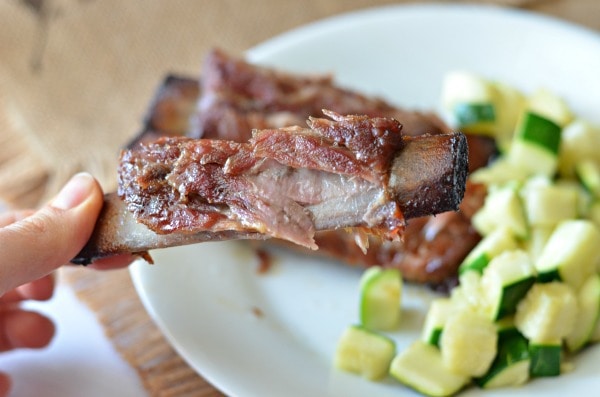 It may be hard to see from the pictures, but the sugar melts down into the meat and creates a sweet and ever so slight sticky goodness on the ribs.  You could definitely cook these in a deep pan with a bunch of sugar and water and let them be stickier and saucer, we just prefer more of a dry rib.
Brown Sugar Ribs | Quick and Easy
3 lbs Pork Ribs
1 Cup Brown Sugar
1/2 Cup Water
Preheat oven to 350.
Place a large piece of foil on large sheet pan. Put the ribs in the middle of the foil and sprinkle about 1/2 – 3/4 cup of the sugar.
Cook for 2 hours and check on the ribs. Uncover them and add the remaining brown sugar mixed with the water over the ribs.
Cook for another half hour and then slice and enjoy.
The post Brown Sugar Ribs | Quick and Easy appeared first on Courtney's Sweets.