You are my sunshine, my only sunshine.  You make me happy, when skies are grey.  <— That song would make me cry tears up until just last year.  It's the song my mother would sing to me every night before she would put me to bed.  I never thought I would be able to smile while singing it again until I had Sweet Baby.  She is in every word my saving grace.  My 2014 New Year's Resolution is to plow through FPIES trials and create more fun and delicious recipes for her to enjoy.
In the past week we've come up with some fun smoothie recipes, a biscuit recipe, and even a brownie recipe during the Christmas holiday.  I feel so blessed to have these sweet moments and recipes to enjoy with her.  The best part is that she's doing it all with me right by my side.  She truly loves to be in the kitchen, just like her mommy!
Chris will always be my Valentine, but I'm so happy to have Sweet Baby as my little Valentine too!  While I can't give her a huge box of chocolates or even a store-bought candy bar, I can most definitely give her love, hugs, kisses, and our very own sweet treats that we make together.  Bonus.. this recipe has NO food coloring or harmful chemical ingredients that go into those Valentine's Day treats she's "missing out" on.  I don't think she's missing out, do you?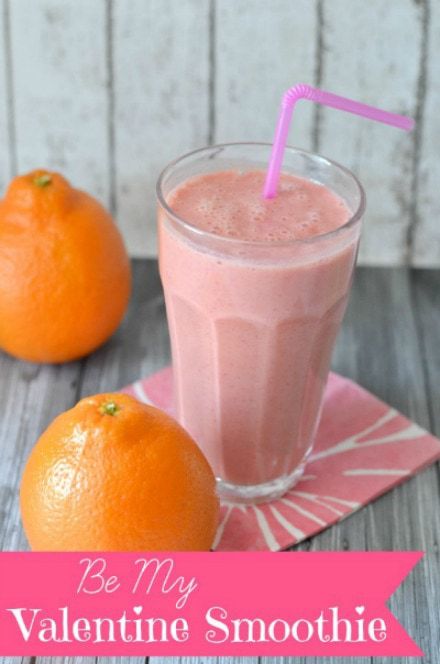 Be My Valentine Smoothie | FPIES + Kid Friendly Valentine's Day Recipe
6 Frozen Strawberries
1 Banana
1/2 Cup Whole Milk Yogurt
2 Minneola Oranges (peeled)
* 1 Big Hug and a Kiss
In a blender blend the strawberries, banana, yogurt, and oranges. Blend until smooth and serve in a fun cup with a straw. Give this smoothie to your Valentine and while they enjoy hug them really tight and seal it all with a kiss!
The post Be My Valentine Smoothie | FPIES + Kid Friendly Valentine's Day Recipe appeared first on Courtney's Sweets.