I cannot tell you how much I love eating breakfast.. I can eat breakfast foods for lunch and dinner.. even dessert if it's pancakes!   Since I've been busy with the baby I really want to still make sure Chris has a good breakfast before his long drive to work – the guy has a long work day too!  I recently shared my post about Mini Ham and Cheese Quiche.. well I did a little bit of onion this time without the potato and ham.  I have other plans for toppings so I wanted to keep it just plain for freezing.  
I cooked a few of them and then placed all but one in the freezer.  I popped a whole wheat bagel in the toaster and then started assembling.  When Chris woke up the sandwich was all ready in the oven!  I had a sleepless night and stayed up to ensure he liked it!  Absolutely perfect for when I'm sleeping only thing is to take it from the freezer the night before and place in the refrigerator since we do not own a microwave and the oven takes too long.  Taking it out before just speeds up the defrosting – if you have a microwave by all means keep it in the freezer.  All that is left is to assemble a breakfast sandwich, or even enjoy on it's own!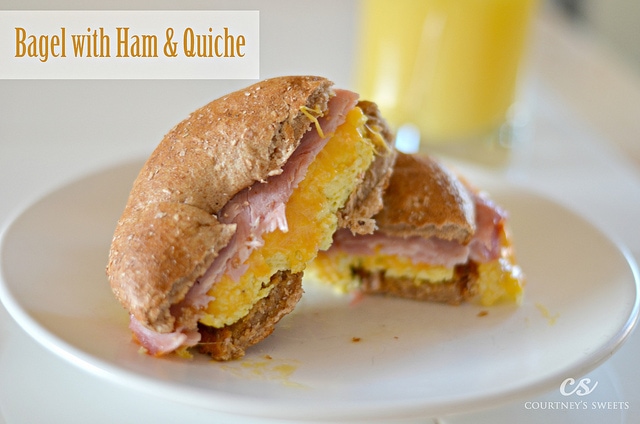 Bagel with Ham and Quiche
1/4 Onion, Diced
1/4 Cup Whole Milk
6 Eggs
4 Ounces Shredded Cheddar Cheese + a little extra for top
Pinch of Salt + Pepper
Slices of Cheddar Cheese (as many or as little as you like)
In a small frying pan with a little olive oil saute the onions until translucent, and add milk to pan to cool onions.  In a large bowl whisk together the eggs, cheese, onion/milk, and salt and pepper.  Place into mini ramekins or mini pie pans and top with the extra cheese.  Bake for 15 minutes.  Place on a toasted bagel with cheddar cheese and ham or if enjoying later freeze the eggs on their own. 
The post Bagel with Ham and Quiche appeared first on Courtney's Sweets.